Personaje de Videojuego anterior a 1985: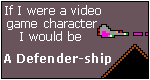 I am a Defender-ship.


I am fiercely protective of my friends and loved ones, and unforgiving of any who would hurt them. Speed and foresight are my strengths, at the cost of a little clumsiness. I'm most comfortable with a few friends, but sometimes particularly enjoy spending time in larger groups. What Video Game Character Are You?

Personaje de ciencia ficción, ésta la recomiendo que la hagais! Hay personajes muy buenos aunque a mi me ha salido este tal John Sheridan, que no lo conozco (es de Babylon 5… :S):